Hey all, started working on the cb160 I got back when I thought I could repair anything in about a week. Boy was I wrong, funny how youthful confidence works.
Anyway, the bike is a complete basket case, I think every single component needs attention other than the gearbox I believe and head bearings (looking on the bright side). If you need cb160 parts you may want to follow this thread in case I find terrible things in the bottom end. I'm very new to repair so I'm mainly treating it as a learning experience since I've already got the thing, might as well try and see where it gets to. I'll also get an idea of what an engine rebuild is like in case I have the desire to do another one at some point.
Here's a picture of when I first got it, most of the big bits are there. The tank is the wrong colour but came with both metal side bits and one of the rubber bits. I also have a full slightly dented set of exhausts.
Engine is siezed so I've got PB blaster in the cylinders and have been doing the rock the bike back and forth in high gear routine and no luck. Took the carbs off and looked in through the carb intakes and the verdict is that it looks nasty enough to make me think taking the engine out of the frame and attempting alternate methods will be quicker and more successful.
One of the carb cables snapped while loosening the adjuster, so I've got a slide siezed in one carb and working on extracting that but at least the bowl finally came off, the drain screw is still stuck though (goes out 2 turns now and stops dead).
Picture of carbs off:
Bowl that was stuck on immediately after removal:
The corresponding float/rest of carb:
Other bowl that has been cleaned and mostly metal rescued
Still need to find something to drive out the float pins.
Currently waiting for the weather to be okay to get the engine out and begin the disassembly so I can get the rust out of the cylinders and see what I'm dealing with.
Also, here's a picture of the front sprocket area (looks like it was submersed in mud and oil). The starter cable (closer sheathed wire) is simple to disconnect, but I don't see a simple way to remove the other wiring behind it unless it's just to disconnect all the bullet connectors at the place right before they enter the main wire loom (top left of picture)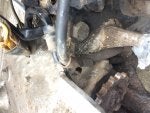 Advice, comments welcome. I'm sure it will be a very long time before this is anywhere close to anything but a start is a start.
Also disclaimer I have limited knowledge of what I'm doing so take my advice at your own risk etc.