On my recently acquired CB450 K1, I took off the carbs as it had been sitting for years and cleaning rebuilding them was one of the essential tasks I reckoned.
Getting everything off was easy enough; they looked like this: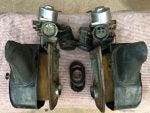 The insides looked not bad having sat for 15 years:
Obviously I'll need to repair the air filter and I have seen a thread here dealing with that. But two questions:
1. Anyone know where I can get the two rubber "seals" around the air box joins? The two in the centre of the first pic are dry, cracked and crumbling.
2. How did the bike run with the hole in the choke leaf? There is a part missing Will I be able to replace this with the relevant part from an old carb? Or will I have to find a complete replacement?
Thanks