Discussion Starter
·
#1
·
Greetings all.
I just wanted a quick verification.
I have a '73 CB450 that I'm currently in the process of building.
I want to know if I can use the exhaust cam cover from a CB500T and just use the CB450 backing plate behind it/
The 500T looks a lot cooler imo with the finned design, and appears to bolt right up.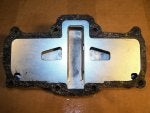 Shouldn't be an issue right?
Thanks in advance!