Discussion Starter
·
#1
·
Me again
Does anyone know whether there's a steering bearing kit for the CA? I'm looking for a kit because a) mine are shot (I've not seen races with the sort of pitting I'm looking at now) and b) the parts diagram is dreadful: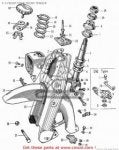 ​
According to this picture, not only are there no race cups that have an interference fit in the frame, there are no ball bearings, either. Having pulled one apart, I know neither of those things is true. David Silvers weren't able to help - they basically use the same diagrams.
I was hoping they'd be the same as the CL77 (knowing they were manufactured at the same time) but the lower bearing/race is very different. The CL has a much thicker lower steering stem.
So what does everyone else do for steering stem bearings? Any suggestions or anyone know of other bikes these races were shared with (other than the CA72 which seems to have a very similar, useless fiche diagram)?
Thanks in advance