Discussion Starter
•
#1
•
Hello all,
New poster here but this website has been a great source of information! So first, thank you!
Guess I'll start with the questions:
- When all gears are in place, should I expect to be able to move the shift forks around by turning the drum by hand?
- Has anybody had success with straightening a shift fork maybe using a hydraulic press? is there any service out there that I could contact for that ?
- Anybody know where I could find a left shift fork for a CB450k3 (part number 24221292020). I contacted Ohio Cycles but they just sold them last week
- In case I manage to put that thing back together, are there any tests that I should do to see if my transmission is ok. Right now I have (both tests are done while simulating the engine rotation):
- turn the drum by hand with all the gears in place and see that the forks move without effort
- once the entire case is back together, check that the shifter pawl is placed correctly (which I did not do the first time and caused my doom)
Anything else I should check for?
Thank you very much for your help!
And here is the long story with pictures:
I bought a non working 1970 CB450 a year ago. More or less my first bike so I think I was not as kind with the clutch as I should have been when I first rode it... and after some time, the bike would not switch up from 1st gear.
When opening it, we realized that the left shift fork was bent and that because the knob supposed to constrain the shifter pawl movement was broken...
The missing knob:
The right shift fork showed little abrasion, whereas the left shift fork was bent and damaged.
Left: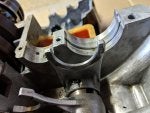 Right:
Bent:
This made it impossible to move the forks by hand
So obviously, because I didn't read this post
https://www.hondatwins.net/forums/55-engine-discussion/31317-cb450-transmission-reassembly-help-bill-lane-steve.html
, I bought a new $99 left shift fork on ebay and replaced it. That solved the issue for a while, but now the 2nd gear was slipping. Re-opened it, and the replaced shift fork is even worse than the first one, either because I did not put it back correctly or because the shifter pawl was bent... Probably both.
New shift fork:
So now, I have 2 bent / damaged shift forks. And I am not sure what to do with it... I already found a replacement shifter pawl but I am not sure how to proceed.