Discussion Starter
·
#1
·
Help. In the summer i diligently rubbed down my tank to bare metal undercoated it with Halfords etch rattle can then rubbed down and applied 3 top coats plus a clear coat from the same paint supplier. Now 3 minths later I finished the bike and silled some fuel on the tank filling it. Utter disaster as I watched first my clear coat then my paint wrinkle up and slude off with a tissue.
I will now need new paint and tank decals for my CB175K6 why did this happen? After 3 months why was my paint not hardened and proof against petrol spills? I dont understand it was specific paint for bikes from a specialist supplier.
Any advice please, I have ruined my finished bike........
Thanks
Charles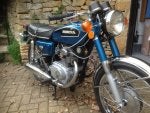 Sent from my iPad using Tapatalk