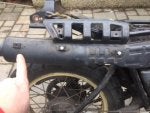 I've got this xt250 which appears to have had Igor and Victor Frankenstein working on it.
Hope my pics appear
Two simple questions, can anyone give me the length of the side stand, as my bike seems to lean over a lot. I might be wrong, maybe that's the correct angle, there doesn't seem to be much wear or play in the side stand pivot.
Second question. The exhaust seems to have three fixing points for the last muffler protector. My bike has a cover which only covers two of the screws, leaving one obviously unattached. All the pics I see of 250's from that era have a two fixing muffler protector. Can anyone tell me which bike this exhaust might be from?
Thanks