Thought I'd go through and document how I restored the two gauges on my 1974 CB360. Obviously, I can not be held responsible for anything associated with this modification if you decide to try this yourself. It's informational only. Disclaimers surely are a wet blanket.
After attaching my newly re-chromed crash bar, the whole bike looked great…well except for the faces of both gauges. I'm sure you all realize the slippery slope a restoration produces. It's difficult to just say "STOP"! I looked at the speedo gauge and the redline portion was…well orange. I decided to pull the trigger over the winter and attempt the restoration.
After reviewing some recommended gauge restoration procedures, I ran across a really neat project from CaptB
incorporating a small digital voltmeter within the face of the tach.
http://www.hondatwins.net/forums/1-project-logs/21268-gauge-restoration-volt-meter-mod.html
What a great project that is quite functional. So after ordering the meter, I started the project.
Here are the tools that I used which should be self explanatory.

The hose clamp secures the chrome compression band around the gauge so as to prevent flexing of the band as one pry's the chrome ring slowly off. The blue rubber strip may be inserted between the chrome ring and the hose clamp to prevent marring the surface of the chrome. One may also substitute duct tape instead of the blue rubber.
The prying tool is a paint can lid remover easily acquired at the local Wal-Mart. I filed the edges of the paint can lid remover smaller for easier prying of the chrome ring:
Slowly work your way around the ring several times until the ring slides off: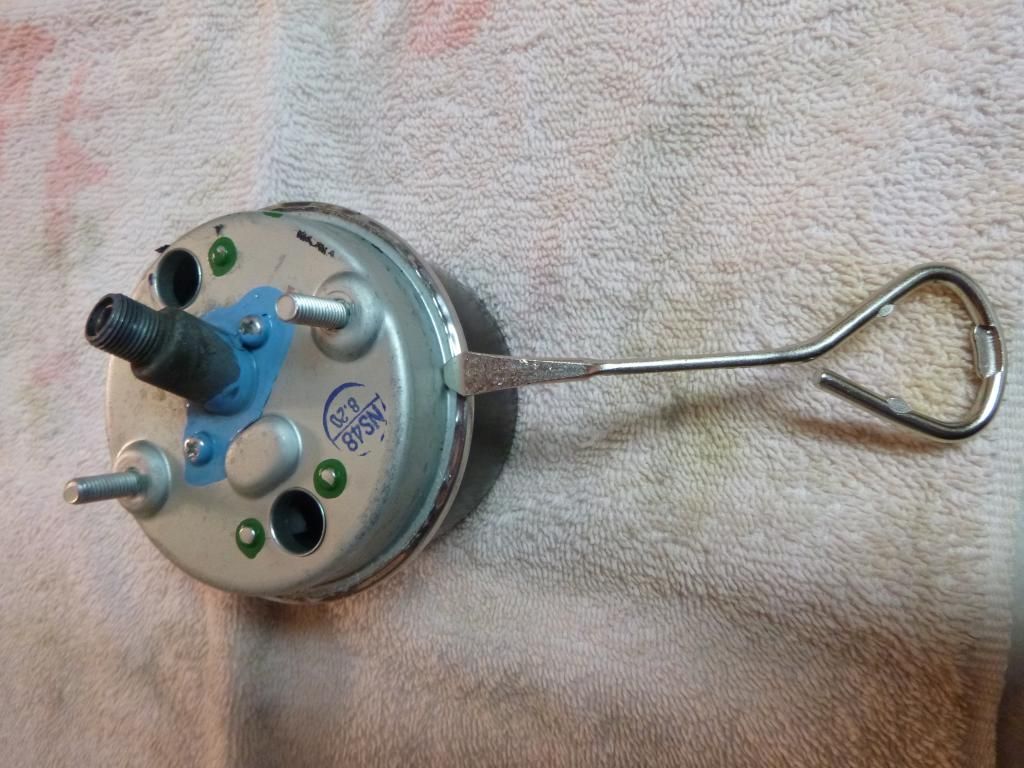 Next I slowly and gently rocked the curved needle nose pliers under the tach needle to pop it off. Take your time with this procedure.
Remove the two face screws to remove the faceplate.
I next marked the face plate as to where the voltmeter would be mounted, avoiding clearance problems when later reassembling.
The rectangular opening was cut and filed smaller than the outside dimension of the voltmeter.

Next the face was wet sanded to remove the lines of the voltmeter opening and to produce a flat surface for new decal face placement. Then a trial fit of the voltmeter.
I secured the voltmeter to the underside of the tach face with 5 minute epoxy and also secured part of the wires also.
Continued Below...