Discussion Starter
•
#1
•
[HR][/HR]Has anyone ever out an aftermarket LOUDER horn inside a CL72/CB72 Headlight Bucket Horn (like the ones pictured below)?
My horn is soooo soft it's pointless.. I was thinking I could put an aftermarket round horn that is loud inside as I don't want to ruin the aesthetics?
Something like:
My headlight bucket is mounted on a CL450 12V so power shouldn't be a problem. I just wonder if anyone's done it?
Here is my bike BTW: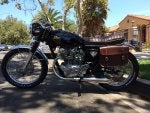 Thanks!
Charles