Discussion Starter
·
#1
·
Well, i guess ill go ahead and start this. I dont currently have any pictures of the bike apart but that will be my next project and ill post them up.
The Story: saw this bike on craigslist and i picked it up in ft. wayne, IN. when i saw it i knew it just needed some TLC so i bought it for 400$. im a student at ball state university so i really dont have a lot to do with my time when im not in class or working. and i figured this would keep me away from partying and getting myself in trouble. its been a good journey so far..ive learned a lot about motor cycles so im happy about that.
Here she was before i tore her apart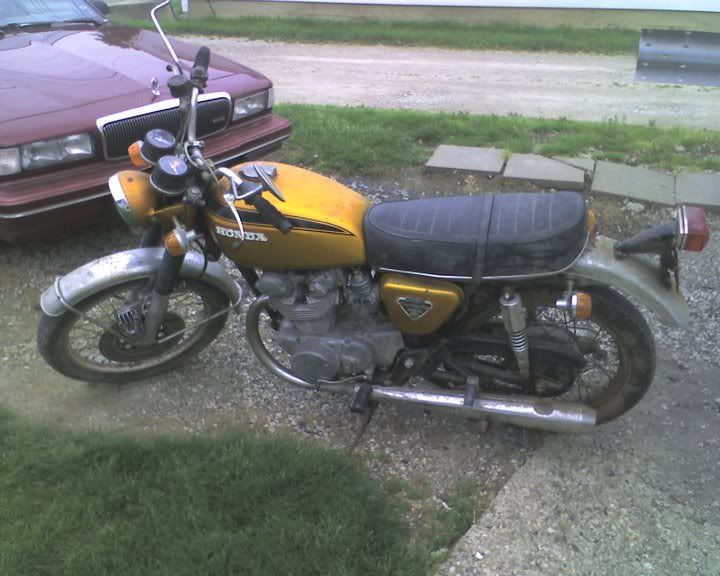 Overall this bad boy had alot of rust on it fenders, frame, handlebars, pretty much everything. so ive got it all torn apart down to the frame and ive been rubbing down the chrome stuff to see if i can shine it up. The engine problems ive had i plan on working on after i get the frame repainted and put back together. I got it off craigslist and it said that it was hard to shift but it ran and stuff so i went ahead and got it. i didnt test ride it cuase i didnt know how at the time but now i found out that it had no second gear. and the right cylinder didnt fire.
[attachment=1:1ilvmnbh]img138.jpg[/attachment:1ilvmnbh]
[attachment=2:1ilvmnbh]img137.jpg[/attachment:1ilvmnbh]
[attachment=0:1ilvmnbh]img141.jpg[/attachment:1ilvmnbh]
Right now tho i just re-wrapped the wiring harness, i was looking through the manual and i saw how to test the coils to see if they were bad. so i did that with an ohmeter and i got about 33.2k i think but the other one i got infinite. it said to put the negative lead on the 2 black wires then the red on each of the spark plug wires and those were the readings i got. but it also had another way to test the condenser but i couldn't get it to work the way they said it should. do i have to buy new coils? can they be bought individually? ill keep this updated once i get my hands on a camera.