Alrighty, so I bought my 1968 Honda Cl 350 K0 8 months ago on December 6th of 2014. It took me from that evening until sometime in early February 2015 to get it down to a frame, a few boxes, and a bunch of zip lock baggies. From February throughout the start of spring I was cleaning dirt, rust, and grime off of every piece I pulled and taking small seeds out of nooks and crannies where my seat and "sprocket area" housed some critter friends. Then as the New Jersey weather started to warm up real nice I began to paint and finish up anything that still had it's 47 years worth of dirt on it.
About two or three weeks ago I put my first piece back onto the frame. Now, after some more tinkering, I have two new tires on, and I have dissembled and reassembled the front forks. These two feats, along with every little thing I did is amazing to me because coming into this project i still had to say "lefty loosey, righty tighty" out loud more than a couple times a night!
Now, as I get closer and closer to hearing the sound of an engine in my garage and not just a wrench, I have lots of questions for this first time build. Some for cosmetics, some out of complete confusion, and the rest for safety. Here are some pictures of the bike when I first got it, and a picture of what it looks like currently. Please feel free to scrutinize and question everything you see in pictures because I would be much happier with criticism then a bike falling apart while I'm riding it haha.
Here's "
Beth
":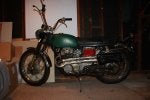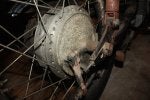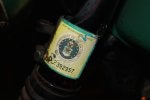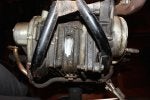 For Search Purposes:
1968 Honda Cl 350 KO