Discussion Starter
•
#1
•
I just bought this 78 CM185T this week. I drove it around before buying it and everything was great. I didn't have any issues driving it around that day. But at night I realized the headlight didn't turn on when I started the bike. I had to switch on the Hi-beam for the light to come on. Then I noticed the blinkers didn't blink, but were just solid. I tried the horn and found that it didn't work.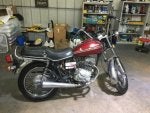 I have done some checks with a multimeter to try and diagnose the issue.
Stator: I checked the connector and had continuity between the Pink, White and Yellow wires.
Rectifier: This one was pretty weird. The FSM has a diagram of which wires to test and the polarity. Testing the Red and Pink wires didn't give me the continuity beep but the multimeter read 543 Ohms. I got 547 Ohms when I tested Red and Yellow, again no beep. The third set, Red and Green was Open Line. The Pink and Green had no beep and 547 Ohms. And the Yellow and Green was Open Line.
View attachment 290502
If I am interpreting these results right, then my rectifier is definitely bad right?
I decided to pull off the headlight and test the other connectors. I followed the FSM charts for these too.
Ignition Switch: With the key in the off position, I shouldn't get continuity between any of the leads. But I got continuity between Black and Brown/White. I also got continuity with Red if the negative probe was on it and the other on Black or Brown/White. With the key in the middle ON position, all the leads should have had continuity. But Brown had no continuity.
View attachment 290504
So my ignition switch is also bad?
Turn Signal: According to the FSM chart, only certain wires should have had continuity depending on where the turn signal switch was located. Regardless of the switch, I got continuity between them all.
The turn signal is busted too?
Engine Stop Switch: With the switch in OFF position, there should have been no continuity but there was.
So in conclusion, is nearly everything electrical on this bike messed up? Are all these issues caused by one fault? I'm pretty new to this business so did I do these tests wrong?
Hopefully someone else has had issues like this before.