Discussion Starter
·
#1
·
Good evening, hope everyone is enjoying the riding season.
Sorry if there is an existing thread on this specific subject; but I've been looking for a few days now and haven't seen anything. A lot of good and helpful information; but nothing that shows the information I am looking for, specifically.
I am in the process of cleaning and rebuilding VB22 series carbs on my 78 CB400T II and I am trying to determine
"where"
on the float I should measure for an accurate float height measurement. I know the measurement is spec at 15.5mm; but I need to know where across the length of the float I should make the measurement.
So the picture below shows the float in the carb. Do I take the measurement on the float closest to the float pin (white line), at the middle section of the float (yellow line), or at the tip or far end from the float pin (blue line)?
Any help with this will greatly appreciated and thank you.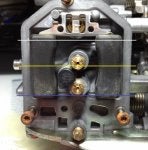 The Clymer manual for the bike gives an image on how to measure, but they show what looks like the round, plastic type floats. Additionally; they are not clear on where to make the measurement in the text. The Clymer graphic is show here as well.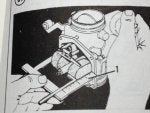 Here's a pic of the bike.