Discussion Starter
·
#1
·
I'm in the middle of an engine build and am looking for educated opinions. It's a 1976 CB360T that never had the guide and slipper properly replaced (no punch marks on the engine serial number). Notice, I said properly replaced. They both broke at one point and rather than fish out the broken pieces, the PO left it in (other than what must have been accessible on top with the valve cover removed) and added "new" ones. I'm posting the entire build elsewhere and will add the link once I have, it's a doozie.
To the meat of the question. I can't find a cam chain (well,...Common-Motor has one, but it's cost is about the fourth of the value of the bike). The original one is acting as though it's bent between two links (presumably when a piece of shrapnel from the guide or slipper hung up in it). If you have a source, I'm open to hearing about it (eBay NOS are pricy too, and most look grungy).
Here's where I am looking for opinions. I found the OEM diagram on
Western Hills Honda Yamaha site
.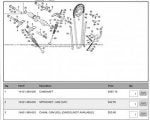 It states that it's a "92L DIADO" (92 Link). So I went to my cheap parts site, Partzilla, and searched that, returning this:
Other than the part number, it appears to be the same cam chain. Even a Honda.
Does anyone have any thoughts, advice or apprehensions about trying to use this cam chain based on the information provided?
What unforeseen issues may I be overlooking?
Thanks for any help starting a conversation.