Hey...my son recently got a nice 1974 CL360. Kicks starts right up and runs nicely. Electric Starter motor spins but does not engage. I pulled the left side cover and found a bunch of bent metal stuck to the magneto rotor. From a parts diagram search, it seems to be something called a starter clutch outer and a pin knock. Parts 3 and 14 in this diagram.
Seems easy enough to replace and repair, but I wanted to get the group's opinion first. I'm used to starters with a bendix that engages when the motor spins...this is new to me. Any tricks to the installation?
Here are a few more pics...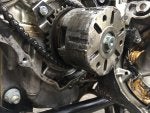 I appreciate any ideas or suggestions.
thanks! Scott