Discussion Starter
•
#1
•
Hey all, just joined this group. Recently bought my first bike, a 1974 CB450 K7. I'm going through it and doing some maintenance, been working on my own cars for awhile but honestly know nothing about motorcycles. Dunno if specific trouble shooting is welcome here but thought I'd give it a shot.
Anyhow I'm having an issue with my choke. The choke plates arnt able to fully open because the bracket connecting the 2 carburetors is getting blocked. The 2 choke plates are linked together by this bracket (1) and as you open the choke the bracket rotates down. But it can't go down enough to open the chokes all the way cause it's hitting a piece of the right carb (2) and getting stuck.
I know it's not supposed to hit there because the clutch plates can only open about 75%. And looking at the choke lever (3), there's an obvious gap (4) showing how far it should turn.
If I bend the bracket in a bit it can slide past but still hits a different part of the carb a bit further down. I need to adjust the way this bracket is sitting on the choke butterflies so I can have the full range of motion on my choke plates. Any tips appreciated thanks.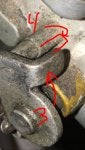 I'm posting this from my iPhone so if the photos don't work I'll upload them when I get home tonight.