Discussion Starter
·
#1
·
Hi everyone,
I'm tackling some top end work this winter, so I figured I might as well start a thread on here to document my progress since I've gotten so much help from reading similar threads on this site.
First a little background: I bought this bike for $500 back in February of this year having never even so much as sat on a motorcycle. The PO said it just needed a carb cleaning & new battery to run, which actually turned out to be true! I spent the next 8 months doing a lot of work on it to get it running as best I could, getting my license, and riding as much as possible. I put about 1,200 miles on it over summer and spent god knows how many hours working on it. Although I have nothing to compare it to, I think it runs pretty well. No hesitating or backfiring. Usually fires up second or third kick from cold. I've had it up to 85 (indicated) a few times, though only very briefly because of the top end oiling issues I've read about. The only real issue is that it burns oil, and the compression readings are a little low (about 140 psi on both cylinders, & 165 with a squirt of oil in the spark plug hole). I had planned on doing the cam chain tensioner & rocker arm shaft recall work this winter since it was never done...so I figured I might as well replace the piston rings while I'm in there to see if that helps with the oil burning & low compression. This is my first time tearing into an engine so I'm pretty nervous, and I'll be ****ting bricks when i go to start it up in a few months!
Here's some pictures of my progress on the engine so far:
Rocker arm surfaces seem pretty good?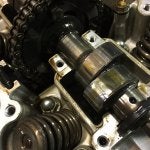 Cam looks good!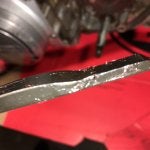 Tensioner did have a crack in it, but getting replaced.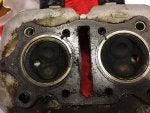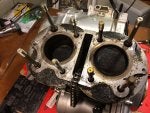 Lots of carbon, and looks like maybe a head gasket leak at some point?
I cleaned the carbon off of the pistons with some liquid gasket remover which I will post pictures of later. Also got some new OEM rings & dropped them off, along with the jug & pistons, at The Shop here in Milwaukee to have everything measured to make sure it's in spec & to hone the cylinders. I got a call from them yesterday & everything looks good so I will be picking that stuff up this weekend! Next step will be to check the valves for leaks with some acetone.
Thanks for reading! Any and all advice would be greatly appreciated along the way.