Discussion Starter
·
#1
·
A bunch of this is ctrl-c/ctrl-v'ed from another forum, so the timing of the posts will be a tad weird. Anyhow, this project started this past fall around mid-october.
About a year and a half ago, some friends and I picked up a '73 Honda CL350 motorcycle for cheap ($300, split four ways), and slowly working on it since. I'm really the only one interested in the bike (two of the other people have moved away, the other got himself a ninja 250), so a project it becomes. Here she is, after being majestically hauled up onto my 2nd floor balcony by two friends and I:
Anyhow, this is my first bike, and I'm working on getting back into good shape over the winter, which will involve the usual battery of de-rusting, painting, polishing, new rubber, cables and whatnot.
However, I'm very tired of dealing with the carbs over the past summer (as well as tank gunk), and the broken choke plate on the left cylinder. Instead of getting a new set of carbs and continue to mess with the adjustments... fuel injection may be an interesting project with potential gains in drivability, cold-start behavior and fuel economy... plus I don't think its been done before. MegaSquirt here I come... again...
I got a set of 4 throttle bodies, injectors, fuel rail, throttle position sensor and whatnot off of ebay from an '04 CBR600 F4i. The injectors should be fine size-wise, since the cyl size for the CBR is slightly smaller, but it rev's a bit higher. Original pic: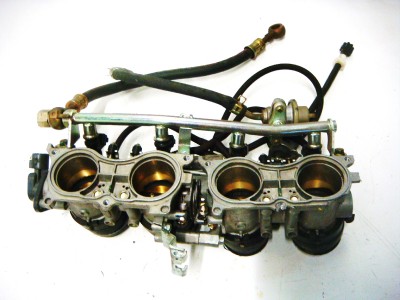 One of the castings is a little bit broken, but overall they're in great shape, especially for $43 w/shipping. I've since chopped down and re-welded the fuel rail so that it'll only span the one bank that I'm planning on using, drilled and tapped some holes that I'll used for a solenoid to control the idle valves and to mount one end of the fuel rail, and in general prep'ed the new throttle bodies for use on the bike. In their completed form:
I've also just ordered the fuel pump from an F4i, since there aren't too many options out there that'll generate the higher fuel pressures for fuel injection, but won't have massively excessive flow rates. I'll prob just chop the stock mounting apart and use the pump as an inline pump mounted outside of the fuel tank so I dont need to worry about welding anything onto the tank itself. It also seems to come with a fuel level sensor, so that'll be one more bit of added functionality.

On the signaling side, the contacts can be replaced with a toothed wheel and VR sensor or hall-effect sensor pretty easily to track engine position and speed (I have a spare sensor/wheel from the RX-7), and then use the megasquirt to control spark to the individual cylinders (Even tho the engine is an odd-fire design, I can use a 4-cyl COP mode to get the proper spark spacing, and just not connect the other two outputs)
All of the extra power required by the fuel pump, injectors, MS and whatnot will be way too much for the stock 55W alternator. Re-wound stators would only provide 100-120W (so max of 8-10A), which will be barely enough to run the fuel injection system, but nowhere near enough to do that, the bike's lighting, and charge the battery. Soooo... time to get creative and go back to the F4i parts bin, to come back with a 310W stator, rotor and stator cover from ebay. I'll need to figure out how to mount it and align it, but I'm in a much better position to do that right now, since I have access to a UMich machine shop at the moment.
Stator, rotor and housing:

The last hurdle would be tuning, but with a narrow-band O2 sensor and just tuning to stoich (or close anyway, to keep temps down), it shouldnt be hard, just a longer process since I dont really want to be riding with the laptop open on the gas tank... disaster much?
In addition, this would allow me to add a tach that actually seems to respond to the engine (the old one seems like its trying to move through peanut butter...), as well as an idle valve, no need to ever re-jet, and if i wanted to go all-out, launch control, shift lights and some other neat little functions.
Weather permitting, I'll probably start tearing her down tomorrow to figure out how to mount the throttle bodies to the engine.