Discussion Starter
·
#1
·
Ive seen this mentioned elsewhere on this forum but was unable to get a definitive answer. The attached photo shows the two air/mixture screws from the carbs of my '73 CB450. None of the kits available online offer different screws so Im wondering if they need to/are supposed to be different? If they should be different, which one is for which side? The parts diagram does not seem to indicate two different screws either.
Reference similar issue:
http://www.hondatwins.net/forums/56...28-different-air-screw-my-72-cb450-carbs.html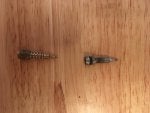 Thanks for the help!
k.