Discussion Starter
•
#1
•
Hi all,
This is my first exercise in motorcycle mechanics and I'm pretty excited. I bought this bike last year and rode it for the summer. In August it puttered out of me at half-power and I new that one of the pistons was not functioning. On inspection as you can see there is a big ol' hole in the top of the piston. I now have the top end disassembled and am looking for advice.
Firstly please take a look at the cylinder walls--are they in decent condition? Or do I need to send them to be machined and get over-bored? I am having trouble researching whether I will need to re-bore them or I can just buy the same size piston and rings to replace them.
Secondly also take a look at the valves, too me they looked to be the only other part that might need replacement? ----but what do I know.
Thirdly I would like to know what people are thinking about whether there could be other damage in the lower crank case. After removing the oil there was a small amount of debris in the old (not sure if that's normal). Should I be worried that the debris from the piston hole could have damaged the lower engine?
Finally I would love to hear thoughts on how this could have happened in the first place! Was I running the bike wrong? I had previously had it in at a garage where they put in a new battery and replaced the spark plugs (this was before I was committed to taking care of it myself). I was wondering perhaps the garage put in a longer spark-plug--(ie hotter ignition closer to the piston?)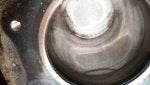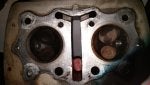 Let me know what you think---anything is appreciated.
The only other thing is I'd rather not take apart the lower crank case. I'm not fully confident in that mechanical expedition/would rather avoid the downtime!