Discussion Starter
·
#1
·
Hello all,
This section doesn't say I can't post progress about a NON Honda bike and a few of you asked for updates so here goes.
As some of you know I scored a 71 Triumph Bonneville beginning of August:
A week ago I was puttering around on it and got the bike to fire. Everything sounds pretty good so the engine just needs some cleaning, tweaking and TLC in general. I knew nothing about Triumphs but have discovered that the 71-72 model year was/is the bastard child of the Bonnie lineup. There is a laundry list of things that were redesigned and in general took an evolutionary step backwards. Most of these items can be corrected with aftermarket items or just some good ole garage engineering.
Because the bike in my opinion is pretty rough, from the standpoint of molested / missing electrics, missing components and just not being that special as a restored bike I have decided to go the route of a hard tail bobber.
Tomorrow I pick this up:
It looks like its been stretched a few inches which is what I wanted and am getting it for a song, considering the price of a bolt on hard tail if I could even use it on the 71 frame. The 71 was the first Oil In Frame design, one of the problems it had was being big and ugly. The other which to me is of greater importance was a reduction of 2 pints of oil capacity which led to overheating in the summer.
I'm not sure of the year of this frame doesn't matter all unit frames will take all unit engines for the most part... you can't put an older engine into the 71-72 frame but the 63-70 frames do not mind at all.
I am going to split the cases and completely disassemble the engine due to large amounts of moisture in the trans case.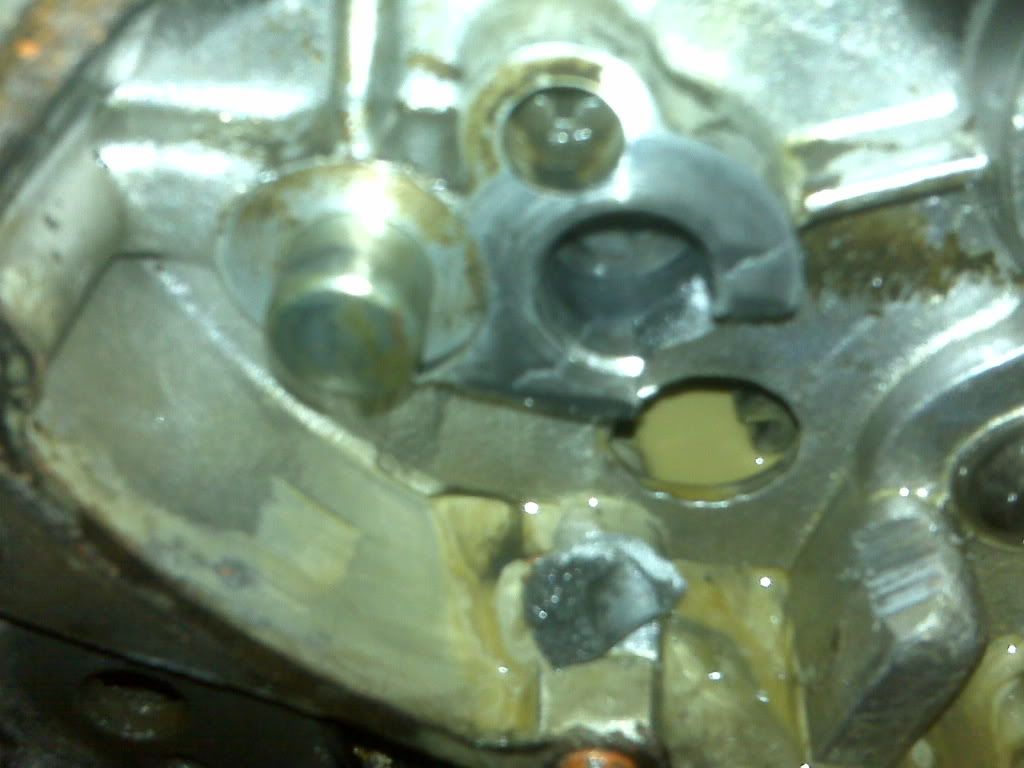 I need to replace the inner gearbox cover as well. Looking at the new kick start quadrant and the damaged pin that hold the kick start lever to said quadrant I'm going to say that as some point in time things didn't mesh up properly and the inner gearbox cover took the hit. I began to suspect something was amiss when it wouldn't kick the engine over except when you put just the right kind of pressure on it. The part incidentally was only used on 8000 70 models, all 71 and 72 4 speed models. While not unavailable they are in the minority of the parts out there.
So my concept for the bike is stock rake, custom oil tank... Oh I can't hold it in:
They are Aluminium and holds 2 qts... I'm planning on taking a fine cut off of both bottles and welding them together. The 70 oil tank held 8 pints which I believe is 4qts. With the external oil filter and oil cooler I should have more than enough room for a full 8 pint load with expansion room and what not. I'm planning to use the stock fuel tank, fork, wheels, brakes etc. I will probably go with something similar to a drag bar, but possibly a European style bar for comfort... time will tell. Eventually I'd like a magneto but they are rather pricey... so for now a small battery. Only a kick starter so no major draw for the battery to absorb.
That's it for now. I'll post some mock up pick hopefully by Monday. Feel free to ask questions, make comments. I love the bench racing.
Novafrk / Eric