Discussion Starter
·
#1
·
I've posted this once before but as there was no response I've concluded that I'm either extremely uninteresting, this has been answered before (I cannot find it), or I just chose a poor time to post and it was buried under other posts. I have 2 questions:
1. What do the different numbers on the two "fat cams" mean, but more importantly, are they interchangeable?
2. Can anything be done in regard to the stripped threads on the cam below, I expect were a result of the lack of oil reaching the cam and journal?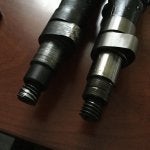 Over-heating Issues for Reference:
Any input would be greatly appreciated as I'm at the point where I'm ready to reassemble.