Discussion Starter
·
#1
·
I went through a little bit of this in my introduction thread but I'll go into more detail here about the HamHock and what I have done and plan on doing.
In september 2015 I purchased a 1982 CB450SC Nighthawk from a college kid in Berkeley, CA for $1000. The (broken) odometer read 39k. I also got boxes of spares with it, a second frame, fork, engine in pieces and various other odds and ends. About a month later I was lane splitting on 880 and high sided when a cager changed lanes without signaling and I collided with the rear drivers side door of his mini van. I went down and slid into the median. I tore my jeans, got some road rash but was able to ride away after calming down a bit. The damage to the bike was pretty limited. I only had to replace the bars and right side turn signals. I got used turn signals and took the oportunity to get some ACE clubman bars that I installed upside down. I removed the rear plastics at this time aswell.
Before the crash, as I bought it.
After the crash.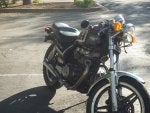 Not long after this the side cover tbs broke off and after a few weeks with them taped on one flew off on the freeway and I took the other one of too. I looked into replacements but the cost way more than I cared to pay.
Right around this same time I was on my way home from work and I made a right turn and gave her the beans when all of a sudden I lost power. The bike didn't die but became gutless and was making a horrendous clanking noise from the top end. I was about a mile from home and limped there slowly. when I pulled the valve cover I found that the right side inner intake valve adjust had come completely out of its mounting. I found the set screw sitting in the cylinder head but the nut had seemed to work its way down the cam chain passage. I put the set srec back in and took a nut from my parts engine, adjusted valve lash and everything was fine.
Around this time I also cleaned out the carbs, installed an inline fuel filter, replaced the rear tire and wheel bearings, put in new plugs and 5k resistor caps, rebuilt the fork with new seals and wipers, went to bar end mirrors, recovered the seat, air filter, clutch plates and springs, swapped the handle bar clamps for ones from an '84 V65 and blocked off the tach drive with a block off for a cb750. I ad to grind it down a little to fit.
In early 2016 I went to colorado for a while and left the bike in the care of my friend who was learning to ride. He painted the tank white and gray (to match his trans am lol) and dropped it a few times in his driveway. He also replaced the battery and the brake stay rod.
After I got it back from him the mirrors were broken off and it needed the valves lashed and a good amount more TLC. Since getting it back from him I have replaced the clutch cable, headlight and bucket (halogen H4 with integrated LEDS), headlight bracket, swing arm bushings, front and rear sprockets (moved to 17/34, I spend a lot of time on the freeway), rear brake shoes, front brake pads, removed the mufflers after the H chamber (this caused the center stand to rub on the chain so it was also removed, though LDR has shown me a way to modify it and reinstall it), chain and also had a chrome cm400 fender with an ebay tail light but the tailing melted and I had to switch back. Additionally I have an M1945 field pack zip tied to the seat for storage.
Somewhere in all of this I started to notice white/blue smoke from the exhaust intermittently. Mostly when real hot and running it hard. Did a compression test and I have 145 PSI (far below the 170 PSI minimum) in both cylinder when hot. Knowing I need rings pretty soon I bought a running (they said) 1986 CB450SC engine for $200. My plan is to run this engine into the ground (I have AAA roadside assistance), swap it out and then rebuild an engine using my current and parts engines.
Near the end of 2015 I had picked up a 1984 VF500F Interceptor for $250 but I screwed up and forgot about the registration while in Colorado and when I was back in CA they wanted $400 in registration and I couldn't get it started. And now I am in the middle of putting the VF500F fork on the CB450SC. I got a set off all balls tapered steering bearings for the swap and a bunch of other parts I will document in a later post. Knowing the difference in wheel and fork size and its effect on rake and trail I have some 280MM rear shocks on the way that I will install with the new front end. I will gain twin disc front and 37MM stanchions and I believe the front end will drop nearly 4 inches. This suits me well as I have been trying to get this bke as light as possible and more nimble. I have been reading a lot from Tony Foale's book "Motorcycle Handling and Chassis design". It's been a big help in the way I think about the dynamics of a bike.
In September of this year I purchased a 1986 VFR700F2 and got T boned 5 days later, breaking my tibia and sending the bike to impound. By the time I got out of surgery and hospital they wanted 1K to get it back and I couldn't afford it. I'm still recovering from the break, have a nasty limp and limited stamina but I was back on two wheels within two months much to the chagrin of orthopedist.
The front end swap should be done in a couple weeks.
Future plans include:
GM coil mod (probably aftermarket CDI at some point too)
Rear sets
VF500F tank swap (and a different seat to go with it
1978 cb400 swingarm swap (1 inch less wheel base)
The engine rebuild I mentioned
relocating some of the wiring
And who knows what else as time goes on.
I will keep updating this thread over time as this bike progresses. I am still riding this bike almost daily so I can't just tear it apart and go at it.
here's the headlight
Here's a couple of pics with the VF500F tank mocked up.