Discussion Starter
•
#1
•
Bike is an 82 CB450SC Nighthawk. I was hoping to get some help from the list on some oddities that I'm finding. Bike is new to me, with 9000 miles on the odometer. The PO said that the last time it was "worked on" that the mechanic said that the carbs were "finicky". When I turned on the gas, the carbs both leaked out of the drains and the accelerator pump housing, so I made sure it started and ran (poorly, but it ran on both cylinders), so now it's time to clean the carbs and get them right.
I got the carbs off the bike this afternoon and took a preliminary look. It's no wonder that they didn't run well. The o-rings on the air valves were missing, the accelerator pump was clogged (and leaking while on the bike). Throttle plates massively out-of-sync. Choke plates out-of-sync (bent actuator). One pilot screw all the way in, one out 5 turns. Yikes.
What has me puzzled is the installed jet sizes. The carbs are VB22G
Main primary: 72
Main secondary: 102
Pilot jet: 35
Needle: D329
These sizes all seem quite a bit smaller that what should be there stock. I'm going to keep the stock airbox/filter. What sizes should I use to replace the above jets?
Does the Honda gasket kit for these carbs come with the air-cut valve o-ring, or do I need to buy complete air-cut rebuild kits. The diaphragm on the ones in the carbs now seem fine.
Also, looking at this pic, should there be a rubber plug on here somewhere? The FSM shows a picture that points to a "slow jet plug" but the pic is hard to see. Am I missing this plug?
Also, any idea why someone would do this to an airbox? It looks like they locked a hungry rat in there and made it chew its way out: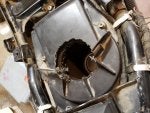 One other thing too. I noticed that when I removed the jet marked 72 (primary main?) that there looked like something underneath it that could be unscrewed and removed. I didn't have a screwdriver that fit, so I haven't touched it yet. What is that under there?
Thanks in advance for any help guys. I appreciate it. I know it's riding season for most.
Regards,
Mike M.