Discussion Starter
·
#1
·
Hi guys, I'm new to this community and i thought id share my build/ project with you all. This is my first project and I'm not very experienced but i think i can learn.
On June 5th i bought a 1982 CB450 Nighthawk that was in Non running condition sitting outside for months. the previous owner said it suddenly stopped working and that it leaks oil from the oil drain plug. His ad listing was $600 but upon inspection it looked like it was in really really bad shape with surface rust and somewhat high KM of 66000 Kilometers. upon discussion he just really wanted to get rid of it for space so he said $100 and i couldn't pass it up. So this is the story of my $100 CB450 project. Strapped on the back of my suv and i took her home.
I bought the bike at night so i didnt have a good look, In the morning i discovered it was leaking pretty bad and had lots of rust and that tank was in bad shape.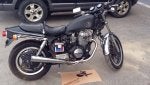 So my first objective was to get it in running order, it took me about 1 hour to diagnose a faulty solenoid, i used a wire to bypass it and she started easy first time.
my next objective was to fully strip the bike to the frame, this is my first time doing this so i took my time in labeling everything and putting the parts i didn't need into a box. took me about 8 hours till it was done.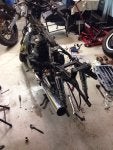 I ordered a seat i liked online along with a new solenoid, while i wait for those I started working on the tank, I have fully stripped the paint but when i looked inside the tank it was full of rust.
I have bought Metal rescue rust remover (water based) and its currently getting rid of that rust, while i wait for that, i thought id look at the engine leaking oil problem. upon inspection the previous owner has a poor job JB weld on it. after removing it this is what i found.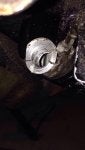 so this is where i kind of didn't know what to do... i was looking at option to get it welded but it was so expensive. The next best thing is to use a piggyback oil drain plug, so i bought a plug for $10 and i am going to jb weld it on to the engine. this way the plug will never move and i have a new oil drain. hopefully it works.
I scuff up the surface and completely clean it of all oils and grease, than i apply the JB weld. i think it turned out pretty good, its a nice even thick layer.
This brings me to my current status of my project. I am waiting for the rust to clear from the tank before i bondo the dents and paint, i am waiting for my seat to come in before i decide to cut my frame.