Folks,
I'm going to document everything I'm doing here and post a lot of pics. I'll mark questions with a *** before and after the question so that anyone just looking to address issues and not read the rest can easily see when I have a question. I'll try to edit this Original post with answers as I get them so that people doing this in the future can have a point of reference when, like me, they don't know very much. Please chime in at any point, even if it is to say "Hey knucklehead...." and make a very direct point.
As discussed in earlier threads I've got a few spots that are leaking oil (really from the oil plug and one specific place where the cylinders and crank case meet). That's the reason for this work. I have to replace a gasket so I'll replace as many as possible for now.
I started today with starting to take my top end apart. I'm following the instructions verbatim from the Clymer Honda manual for twins, 1978-1987, 400-450cc.
At the point of discussion beginning here, the tank and seat are off, left side crank case cover is off, chain and front sprocket are off, battery disconnected and all electricals were moved under the seat by the PO and the upper brackets that bolt the motor to the frame are off. Bike status is the bike is in neutral, oil drained, oil filter out, and the bike is on the center stand.
I began this day by removing the carbs. 2 pics of importance; one showing that cam breather tube has been replaced with a small filter. I'm not sure where the other end originally connected, but this doesn't match the pic in my book. The second pic shows some grime around where the carb boots connected.
***(1) first question, the book references using a "solvent" several times for cleaning. Is there a recommended product that people love (and will be useful when I get to removing carbon build up)?***
breather tube
carb boot area on back of cylinder head. I put the bolts loosely back in so that I can keep up with them.
I then removed the valve cover. For anyone that has never done this, I lifted it and kind of rolled it forward and down just enough so that i could pull it out of the right side.
Here are a few pics of what was immediately underneath.
Left side: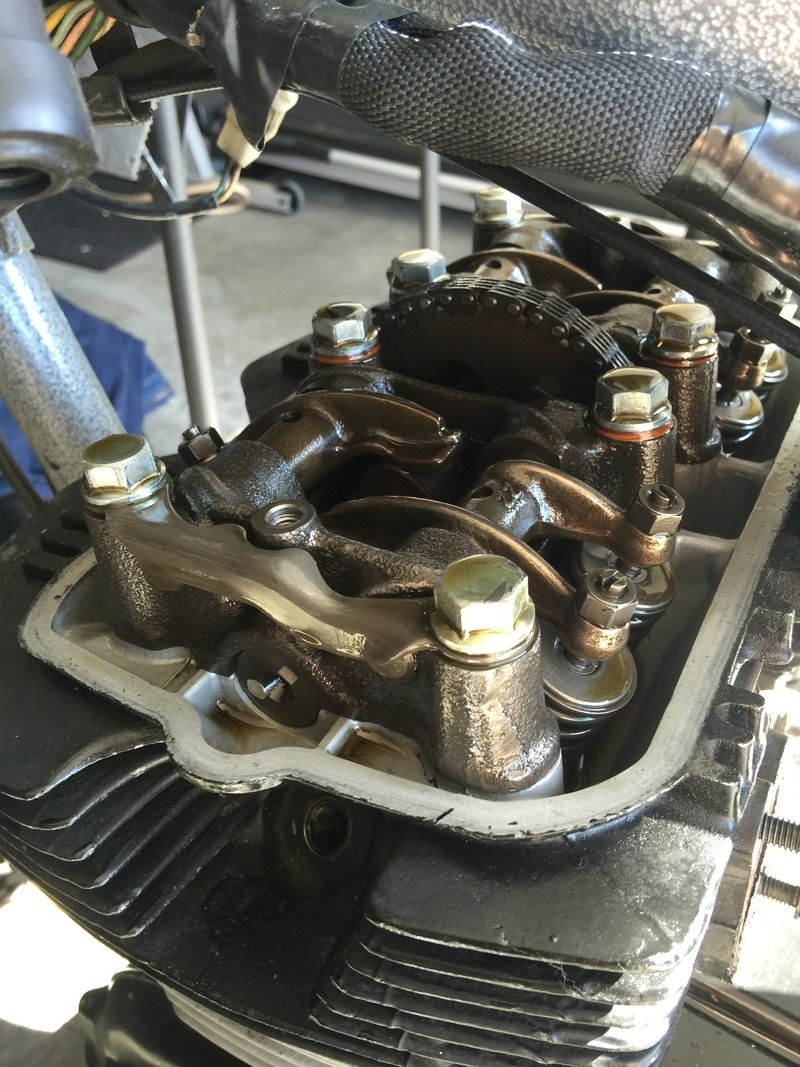 Right side: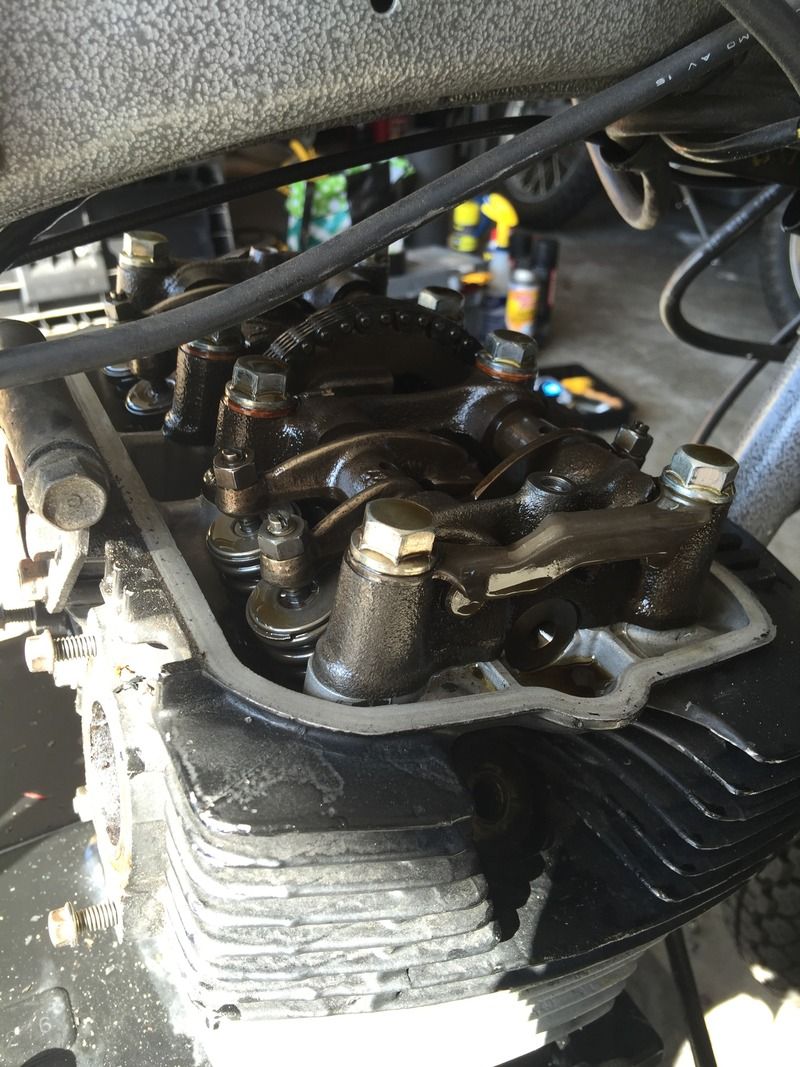 I was a space cadet and had not removed the exhaust, so I did that next. The bolts were actually not tightened down very well, so I'm wondering if there was actually a good seal. At any rate, pics of cylinder head exhaust outlets (again, nuts on the screws to keep up with them for now:
right side
left side
The pipes and the seal rings that fell out, coated in white stuff.
After getting this sorted, I moved on to removing the cylinder head bolts. I followed the ordering of the book. The bolts on the left rocker arm assembly, under the frame, were pretty tough to get out.
***(2) If you look in the picture below, there are plastic/rubber pieces on the bolts that are not on the other 6. What is this, why is it there, should I take it off, is this a concern? (ref: pic below, my bird finger is pointing at the 'thing' in question.)***
Super tight trying to get this out, and not shown/referenced in the book. Only on 2 bolts.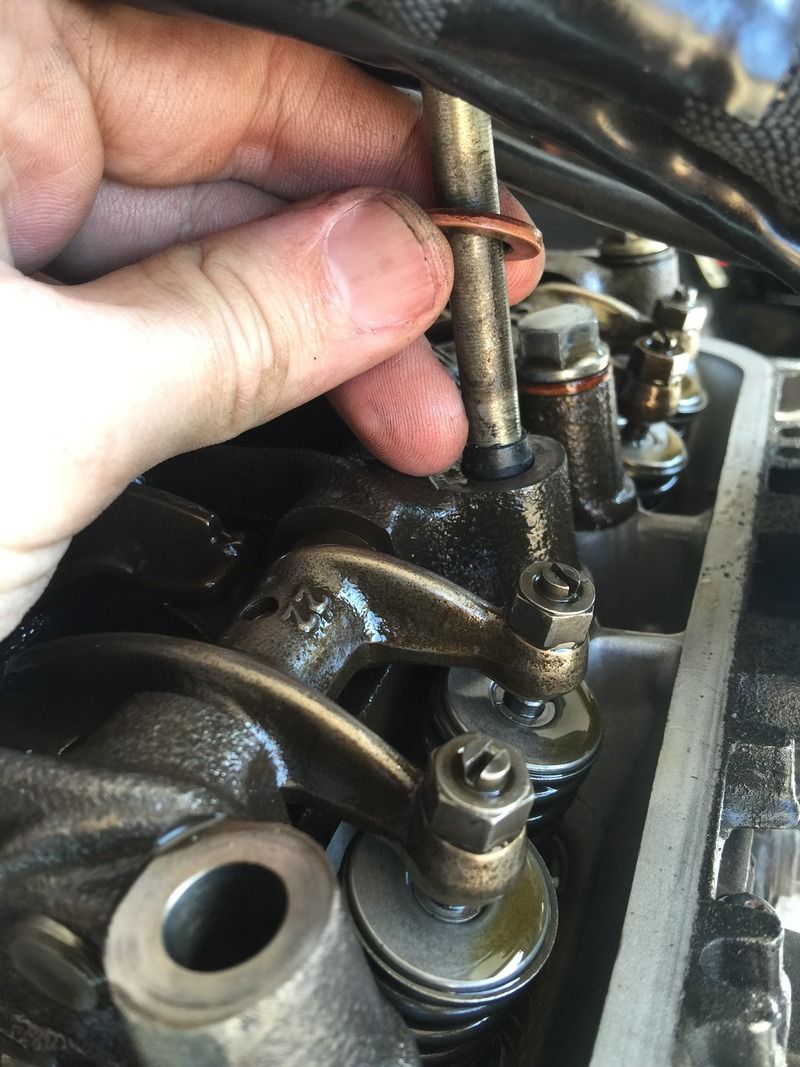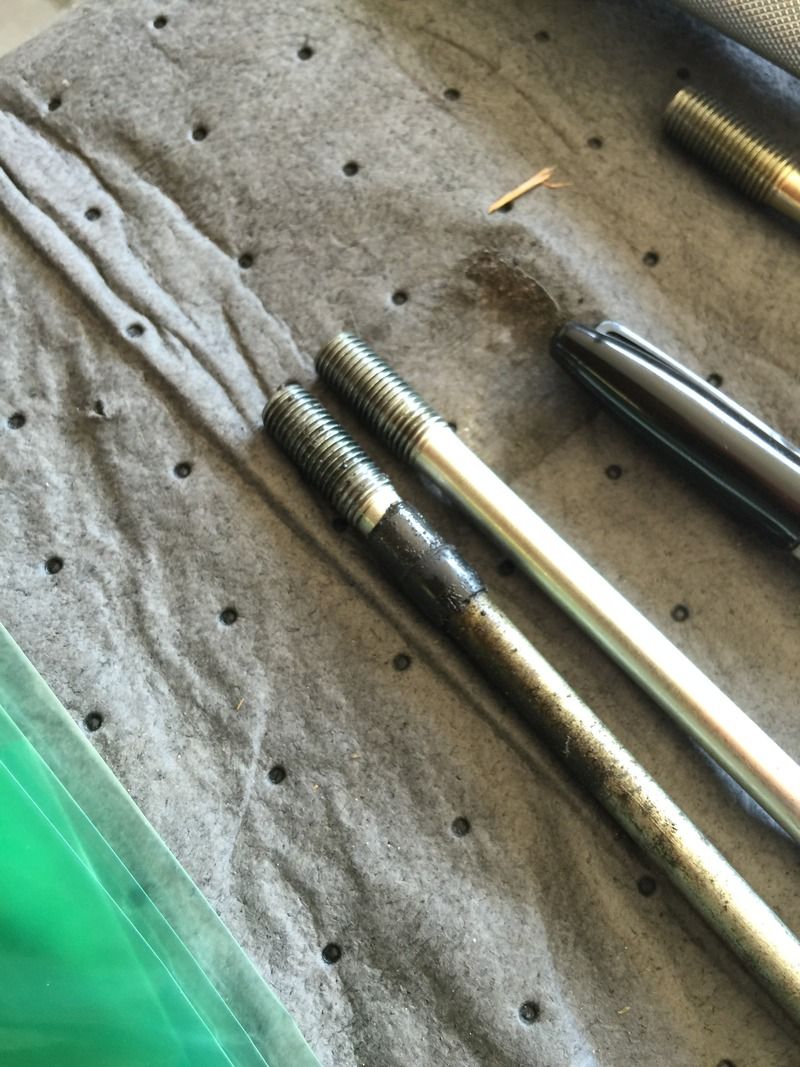 The cylinder head bolts on the right side do not have those pieces: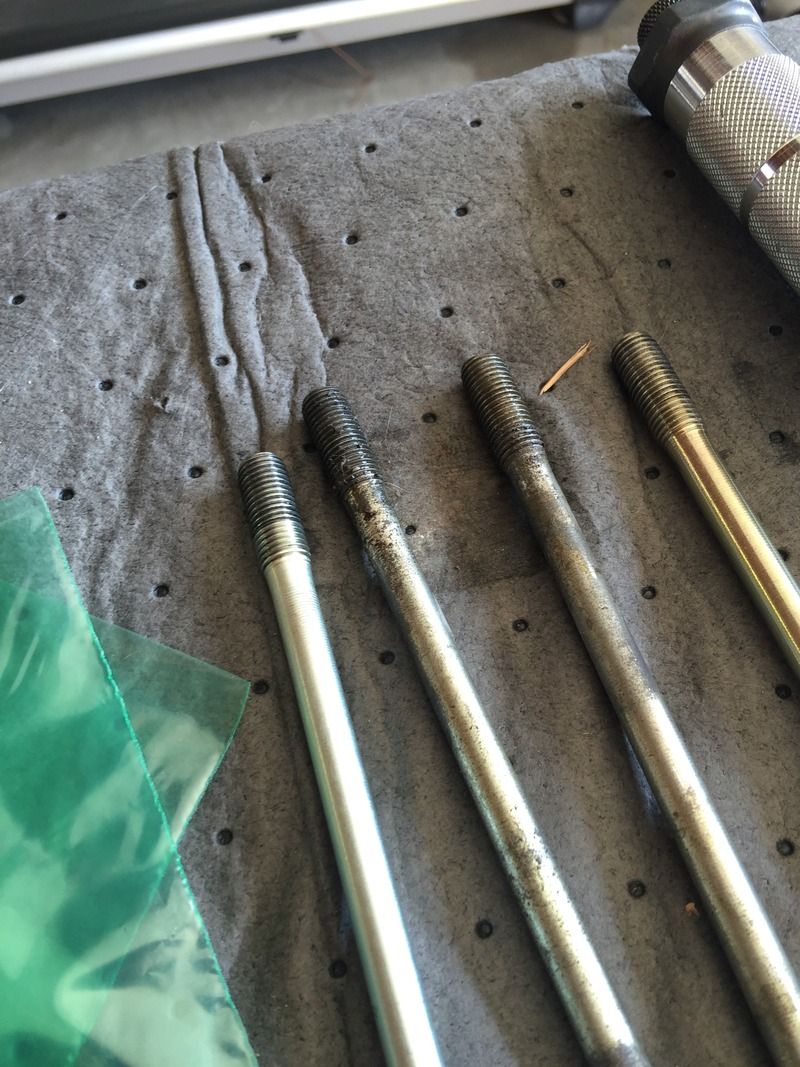 I then carefully removed the rocker arm assemblies. No idea if everything in there is looking good, since my virgin eyes are seeing this stuff for the first time.
Left:
Right:
***(3) In this pic, the front does not have same round piece that the rocker arm should guide down on to in this pic. It is pretty well stuck in the rocker arm assembly itself, but appears to be in fine shape. I can take a pic if needed, but I don't think this is a problem. Unless someone tells me otherwise I don't want to go pulling this out with novice force.***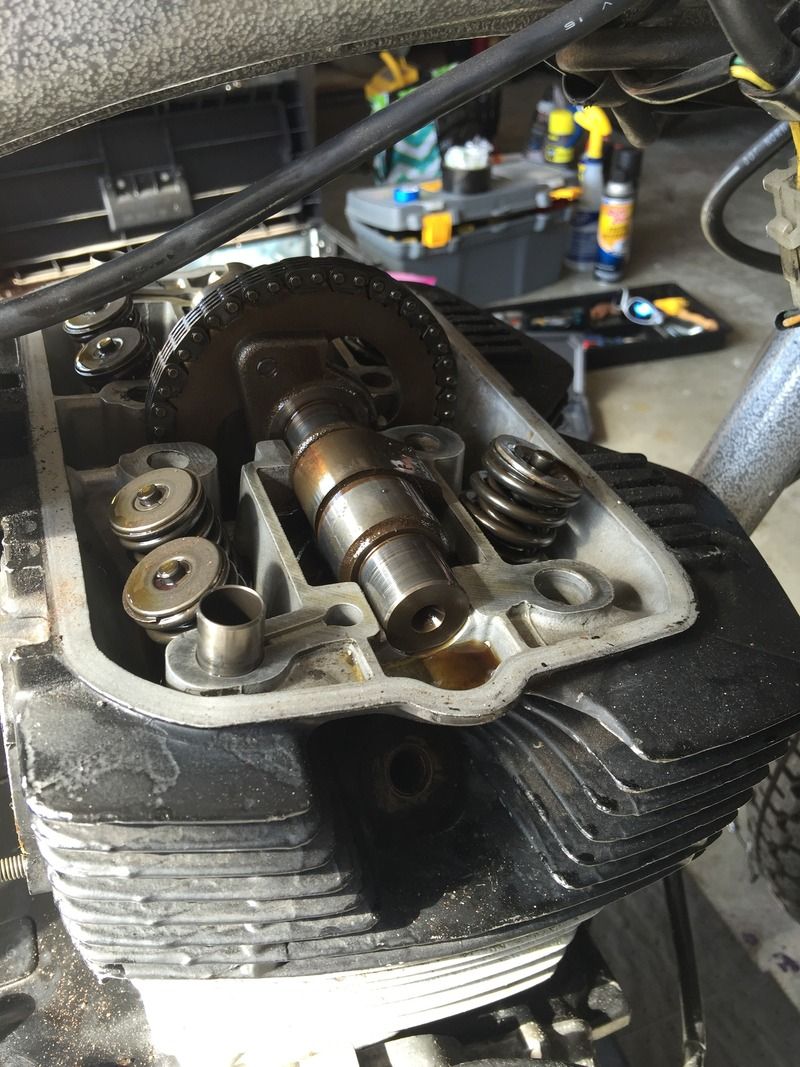 And finally, where this thing is as of right now:
I am about to work on the bolts on the chain sprocket/cam connection and remove the cam so I can take the cylinder head off. Any guidance advice at making this a smooth process would be great.
***(4) can I turn this sprocket safely so that I can get to both bolts? Right now I only see one and I don't want to turn anything I shouldn't. This can be seen for reference if you go up 3 pics.***
***(5) The book references the need to tie the chain up to the frame with wire. When I go to actually lifting the cylinder head off am I going to need to have someone else with me to help get the chain through the cylinder head and not drop it down into the case or is there a smart way of doing this?***
My only worry so far (perhaps unjustifiably) is question 2. The rest seems like it might be routine new guy stuff. I know I'll have more questions as I work through this. Thanks in advance for any assistance!