Hello all!
I picked up a 1975 Honda CB360T off of craigslist here in Atlanta a couple of months ago. The previous owner had started some very minor restoration on the bike. I bought it not running and with super dry rotted old tires. Nowhere near running and riding condition. It is currently up and running with just a few minor things to finish up before it will be truly road worthy. My current plan is to ride until the weather is too cold, then tear back down and clean/paint the frame and do some other repairs. I will do my best to outline everything I have done with the bike so far and successes/struggles I have had along the way.
From the Craiglist ad:
Day one when I got the bike home. Assessing the situation.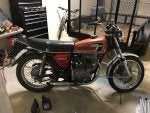 Soon after I got the bike a "helper" appeared!!!
So initial assessment was this:
Engine turned over fine. Assumed to be sound at this point.
Gear shift worked and seemed to shift fine.
Chrome.... so much chrome
Oil was drained (odd but just filled it up and it was fine, guess that was part of the beginning work the other guy did)
Battery dead, no surprise there
No air filters, again kind of odd but not a huge deal
Clutch seemed ok
Brakes worked
Tires super dry rotted, like ridiculously. Bike obviously hadn't been ridden in a long time.
Handlebars terrible
Mirrors terrible
Highway peg thing??? (Why???)
So all in all bike seemed pretty solid. Got to work right away with filling up and checking the oil (didn't want to forget that crucial step later down the line.) Took off a bunch of stuff I deemed unnecessary of just plain ugly.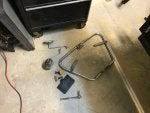 What's this? Came with the original tool kit and manuals and all kinds of stuff to nerd out on!