Discussion Starter
·
#1
·
Hello Everyone!
I'm new to the site and just wanted to introduce myself to the forum.
A week ago, I picked up a 1975 CB360T with 10,224 miles on it from my uncle for $50. It looked pretty rough when I got it, but it had been stored in a shed since 1984 which is in turn a long time to sit. It ran fine when put into storage, but the PO noted that there is a small clear plastic or rubber tube that sticks down from the bottom of the bike that reportedly spat out oil. I kicked the kick start and the engine turned over, so it at least isn't locked up.
My uncle has had a hard time finding the key, and hence I have not been able to pop the seat and replace the battery to check the electrical system, nor put it into ignition to test whether it will start. I did purchase a parts lot on ebay yesterday for $5, which included a new ignition and key so I'm awaiting that to arrive so test things further.
I just thought I would introduce my bike and everything to all of you, and would greatly appreciate any help you all can provide me as I go!
Here are some pictures.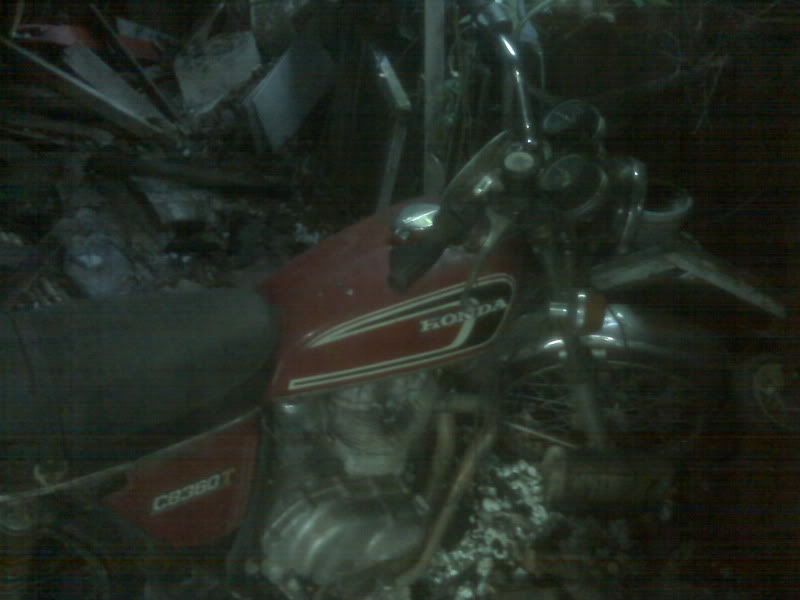 This one is from the day I picked it up, while still in storage. Yuck.
This one is from later on that day after air blowing off the debris and pressure washing it down.
Same story with this one.