Discussion Starter
·
#1
·
Hello there,
Apologies in advance as I realize there are a lot of posts regarding leaks on older CB's. However I am relatively new to biking and want to make sure I'm getting the correct parts! A lot of the older posts links for photo's/parts are dead.
I have a leak coming from the left crank case and after some research I'm fairly confident it's the shifter oil seal and/or the seal on my clutch lift rod. Photo's below are of when I first removed the left rear crank cover.
Parked for 5 minutes after a 15 minute ride......
Left Rear Crank Cover removed (You can see how filthy it is in there)
Up close
After cleaning I believe I need to replace the Clutch Lift Rod Seal
As well as the Shifter Oil Seal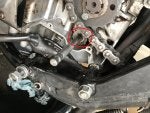 Now for my questions
1. Can anyone confirm the names/part number to these seals?
2. Can anyone confirm where to order these?
I have had trouble getting an exact name or part number and want to make sure I'm ordering the correct replacement pieces.
Any pointers/advice/comments are greatly appreciated!
*** If this is posted in the wrong place please let me know and I will remove it ***
John