Discussion Starter
·
#1
·
Hello All,
I have very little experience working on motors so I decided to take a running 1973 CL175 apart (I have a lot of experience being dumb). Now I need some help (Surprise!) Compression was really low, ordered .50 oversized pistons and had it bored out. Easy Peasy. I'm looking at these shiny new pistons and I realize I did not take enough pictures as I was taking it apart. I do not know which way the pistons go in. One side has 3 holes under the rings, this side also has the "IN" on it. The other side has 4 holes under the rings and the "50" on it. I'm sure this is a silly question to an old hand, but I'm green.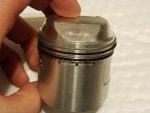 Different question but related: Any hints on cleaning the valves and surrounding area? How clean is "clean" in this case?
I appreciate any help you guys can give!
Here's what I'm hoping to ride this summer.
All the best,
Bill