Discussion Starter
·
#1
·
Hello all, I'll be fixing up my 1972 CL350 and wanted a place to document the process and to ask question, so here I am!
A little history about the bike. It belonged to my uncle's uncle. Later my uncle got the bike, where it sat for years. About 8 years ago my uncle and I decided to get it running, which we did, for 18 miles. When a bolt on the cam gear came loose and he heard a "tink". Ended up snapping the cam chain and bending an exhaust valve. SO it's been sitting, once again, for the last 7 years until NOW!
I've spent a lot of time trying to figure out a game plan and I think I know what I want to do now. At first I was going to run a custom tank and was going to use cognito's conversion hub and get a GSXR front end and all that but I didn't want to put THAT much money into this bike. NOW I think I'm going to keep my stock CL tank and front end. The front end was replaced somewhere down the line with something from a 450, I THINK. The fork tubes are 35mm so I don't think it came from a 350. So I plan to get new tubes for them and use race techs emulators to fix them up a bit. Black aluminum rims with new spokes. New master cylinder, SS brake lines and new pads. Unless someone has a better suggestion.
Don't know what Im doing with the controls/gauges yet but ill get modern replacements. I like the bar end turn signals I'm seeing. MIGHT get the moto gadet M unit but those are a bit pricey… so we'll see how the build goes. I am going to get a "cafe" seat and ill stick the battery and electronics in there. Definitely will be switching to electronic ignition and a new regulator/rectifier. I think Im going to try and use the LED strip brake light/turn signals but how I want to mount my seat I won't be able to see the rear frame hoop. So I might notch the back of the fiberglass seat.
Probably will keep the stock CV carbs.
I don't think ill be doing much to the engine. Cams are EXPENSIVE for these bikes! I think I'll use the KA slipper cam chain tensioner. Maybe some valve work? I don't know yet.
I would like to try and make the CL exhaust work with new mufflers. Man that thing is a boat anchor!!!
Rear shocks maybe Hagon? Unless I win the lotto for something nicer.
Might get a 520 conversion chain set up, which seem to be about the same price as a 530.
Well thats my game plan as of now! Im sure lots will change along the way… time to get to work.
Taking it all apart I think it's amazing how heavy everything is...it's like the engineers wanted it to be heavy. "We need to hold this tiny wire. Let's build a 2lb steel bracket for it!"
Before and current state: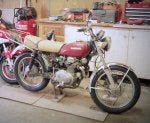 Barf!
The mystery front end!
General shape inspo