Discussion Starter
•
#1
•
I picked up a 1971 CL175 K5 from a friend last month. He said the bike was running fine, became intermittent then stopped all together. Now, No spark .....
The bike has a Tytronic electronic ignition. The coil, stator, plugs, caps and regulator/rectifier all check out fine.
Tytronic ignitions do not get great reviews on the Web. I would take it off and go back to the standard points and condenser but the guy who rebuilt the engine said he put a CB175 cam in the bike and it may not work. He mumbled something about having to match the correct set of points to the new cam.
Any advise .... pos or neg would be greatly appreciated.
thanks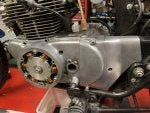 chuck