Discussion Starter
·
#1
·
BACKGROUND: I bought a '70 CL350 last month. Thank you Craigslist! I've been posting various questions on here and thought I'd better start a 'proper' thread. I'm here for the long-haul.
ME: 36 year old college professor. That means lots of time to ride in the summer, but not a ton of $ to spend on bikes. My other bike is a Yamaha FZ6, which I ride a lot (mostly on longer trips - jump on the bike, ride 1000 miles, stay two days, then blast home). I've done basic maintenance on the Yamaha and on my previous bike (a Honda Shadow), although I have NO experience with vintage bikes beyond what I've been learning on here and from the service manual. I have no background experience with anything mechanical or electrical for that matter.
BIKE HISTORY: I bought the bike from a young guy who got her last fall (in Michigan). He had a ton of bikes in his garage, so I'm a bit concerned he unloaded her for some reason I have yet to discover. He seemed like a nice enough guy (loaned me a compression gauge anyway), so I took a gamble and brought her home. Apparently the bike was used by a college student in the late 80s/early 90s and then sat almost unused for about 10-15 years. The previous owner got her running, but it looks like he didn't finish the job (he claims he did a carb/petcock rebuild and coated the tank, which is consistent with what it looks like - he almost certainly got the carbs wrong.....more on that soon). The bike was registered in 1971 in Florida (sticker on the steering stem shows this) and under the seat there's a sticker showing she was maintained at a dealer in Florida for at least the first few years of life. Good sign I guess. She came with a clean title.
THE PLAN: This year, I'd like to get the CL running and get caught up on basic maintenance. Then I'll rebuild the carbs and try to get her REALLY running. Ultimately, I'd like to bring her back to her former glory, but I'm not thinking of a full restoration. I want a bike to ride the back roads, do an occassional long trip on, and chalk up miles. These things were made to be ridden! I'm seeking maximum reliability with minimum fuss, so I'll probably keep the externals close to stock (except maybe a custom paint job down the road). I plan to upgrade the internal stuff over time though (improved cam chain tensioner and new chain seems like a good idea, maybe electronic ignition, who knows....).
Here she is arriving home. I've been waiting to take more pics in a better location, but haven't gotten more than 6 blocks from home yet! Note: the handlebars are shifted downward so I could fit her in the back of the van.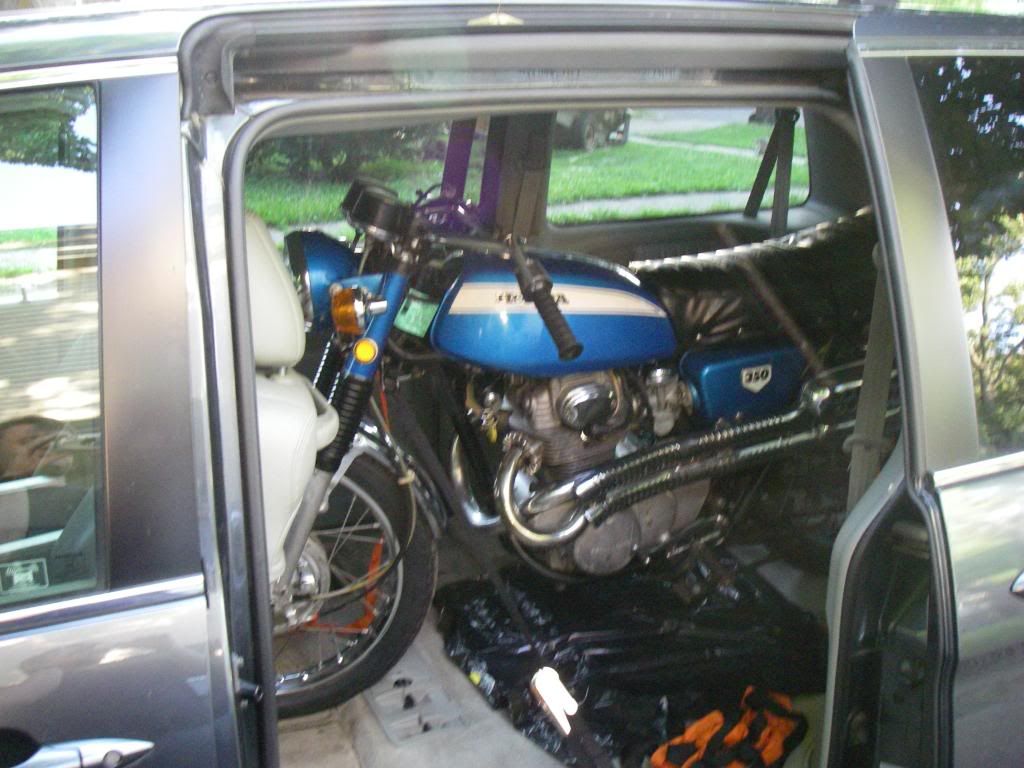 Mileage is 10,600. Overall, she looks good for her age, although there are numerous dents, dings, scratches, and a non-matching side cover. The biggest dents are on the right side of the tank (several), and on the fork ears (both are dented pretty badly and twisted to the right). The bars are also slightly tweaked.
Lights/gauges - they all work! Gauges look like new (no fading). In general, it looks like this bike was stored out of the sun/rain.
Exhaust - in great shape overall. Some minor surface rust behind the mufflers and some scratches from what must have been a drop.
Suspension/brakes/transmission - I'm thinking that the fork oil is probably 40 years old, but everything actually feels pretty good. The rear shocks look like new. Both brakes work well. Clutch/shifting is smooth.
Body - in good shape. Paint is almost good enough that I'd consider keeping it. By the time I start fixing dents and replacing bent parts I'll probably want to re-paint though. The footpegs/sidestand/centerstand/battery box/tool box are very, very rusty and will need a good powdercoat. Most of the rest of the frame elements are in excellent condition and I'll probably leave them. Seat looks original and has no rips, although the foam cushion is pretty much shot and the pan is pretty rusty.
I've only ridden her twice, and both 'rides' ended with me pushing her home :lol: I've got big plans for her though!
I'll post a mechanical update in a few minutes....