Discussion Starter
•
#1
•
Hey y'all! Very new rider and beginning mechanic here with a project bike on my hands. So let me catch you up to speed on what I'm dealing with and where I am so far. My fiance bought me a 1970 CB350 K2 for Christmas and I've been jumping head first into tearing her down and restoring her. I'm trying to keep her as original/stock as possible but might make a few changes here and there and I'm definitely not opposed to replacing parts if there's just no way to save them. As you can see by the title, she's a little rusty and so has been a bit of a struggle at times to tear down but can't complain too much as this is a great learning experience, fun, and my fiance got her for a song.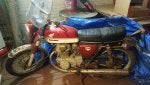 So on to the bike. As you can tell from the pic, a lot has already been removed. Seat, shocks, handlebars, battery box, headlight, controls, speedo, tac, coil, carbs, air filters, and back tire have all been taken off. Where I'm getting in to some difficulty is with the crankcase covers. I've got two screws on the left side that will not budge, so they got stripped, and following a video I started drilling them out. I tried heating them, impact driving them, and finally settled on drilling them out by following a youtube video. This technique worked great for two screws I had stuck earlier but is giving me trouble now. The right side is similar with even more screws just plain stuck. On the fiche below for the left side we're talking about parts #19 and #15 on the bottom left and right of the "HONDA" cover. I drilled on both for almost an hour and didn't get the screw head to come off. The left one is pretty dead center while the right one got a little off center and I'm a little concerned I screwed it up.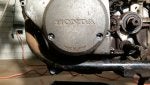 Any advice for how to remove these? Keep drilling? Are the screwed up? I've got more screws on the right side crankcase that are located in the smaller cover piece that I;m concerned about drilling into also. Taking general advice on any and all items as well. Recommendations on a cheapish stand? Any knowledge is appreciated!
Special shout out to @Saturdays Wrench. His videos and thread have been a huge help and I can really say without his videos I would not be this far along or this confident in the build. Thanks!