Discussion Starter
·
#1
·
Hello to everyone on this forum. This summer I bought a 1967 CD (Yes, its a CD, not a CB), which had been stored in a garage since 1974. This bike was bought in Vietnam by an American soldier fighting in Vietnam, and he had it shipped back to the states. He stashed it away, not using it, and sold it in 1974 to a guy who also just tucked it away in his garage. I was able to buy the old relic this summer, and have almost completed the restoration.
The odometer reads in kilometers, and equates to about 600 miles. The rings had seized on the piston, and I had to pull the engine apart and replace the rings with original size "00" rings, lightly honed the cylinder, and put her back together.
Amazingly, the old and corroded battery that I removed had a manufacture date of 1966......so, the bike still had the original factory battery. Also, the tires are the original tires that were slapped on back in 67, and the tread is almost like new. The quality of the rubber was better back then, and I merely put air in the tubes and cleaned them up, and presto.......they look great.
I finished an acid treatment (apple cider vinegar) to the inside of the tank, where the old gas had reduced down to terpintine and lead. Used baking soda in the flushing process, and then did a thorough dry-out with a hair dryer, and immediately filled her with motor oil to prevent any flash rusting. The tank had a few small rust spots, and I went ahead and repainted the tank, and have let the clear coats dry well, and am ready for a good polish before putting all the chrome/emblems on.
I will try to add some pics:
Before: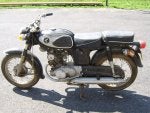 After:
I do have some technical questions regarding the electrical system, and will be posting some questions soon